Garnet sand abrasive can be used in both wet and dry blasting applications. Surface cleaning, coating removal, and water-jet cutting may all be done with garnet abrasive, which is also employed in marine applications due to its non-toxic nature.
Garnet sand abrasives are classified according to their crystalline arrangement rather than chemical makeup, which allows for some variance in composition. Pink, red-brown, or greyish-brown mixtures are possible. Densities range from 135 to 150 lbs/ft3. The granular form of garnet's potential to be employed as an abrasive is due to its Mohs hardness range of 7 to 8. The garnet granules will clean stubborn surfaces and resist fracture when propelled at high speeds, allowing the garnet sand abrasive to be recycled. Granule sizes range from coarse to fine and are utilized for a variety of applications. Almandite, andradite, grossularite, pyrope, and spessartite are minerals found in the garnet family. It's a non-toxic substitute for slags and silica sand.
The ultimate product of sand blasting machine with garnet sand abrasives is also significantly cleaner, with less dust and no garnet particles embedded in the surface. Although garnet sand abrasives are more expensive than other abrasives, their recyclability and clean blasting capabilities may cut expenses, making garnet sand abrasives more cost-effective.
Specifications of Garnet Sand Abrasive
| | |
| --- | --- |
| Packaging Size | 25/50 Kg & 1 MT Bag |
| Color | Brown |
| Packaging Type | PP Bag |
| Type Of Cutting | Stone, Marble & Metal Cutting, Glass Cutting |
| Material | Solid Minerals |
| Minimum Order Quantity | 16 Ton |
Chemical Composition
| | |
| --- | --- |
| SiO2 | 36-38% |
| Al2O3 | 20-22% |
| Fe2O3 | 31-33% |
| MgO | 6-8% |
| MnU | 0.53% |
| CaO | 1-1.5% |
| TiO2 | 0.3-0.7% |
Sizes Available
| | |
| --- | --- |
| Size | Surface profile |
| 12/40 Mesh | 100-150 microns |
| 20/40 Mesh | 75-100 micron |
| 20/60 Mesh | 50-90 microns |
| 30/60 Mesh | 50-75 microns |
Garnet Sand Abrasive Price in India
The Garnet sand price depends on its mesh size. We offer abrasive garnet sand, almandine garnet sand, water filtration garnet, garnet 12-24 mesh, garnet 20-40 mesh, garnet 30/60, and garnet 80 mesh at a low price at a minimum delivery time. In shot blasting machine it is also used to remove contaminated elements from metal objects that have been cast or manufactured, as well as welded in some situations. The media is placed in a tank, and the air pressure is maintained at the same level as while the operator is sandblasting. The media is then pushed out of the blast nozzle by the pressure of the air we use, which is dropped into a blast hose line. During a multi-media filtering system, garnet sand is used as a support layer. Garnet sand could be a current gem mineral having physical, chemical, hardness, friability, and microstructure properties that are ideal for water and chemical filtering operations in the industry. Garnet sand applications range from simple single-media filters to highly advanced multimedia commercial and industrial operations. Garnet sand helps in the removal of suspended particles produced by chemical and/or water filtering procedures.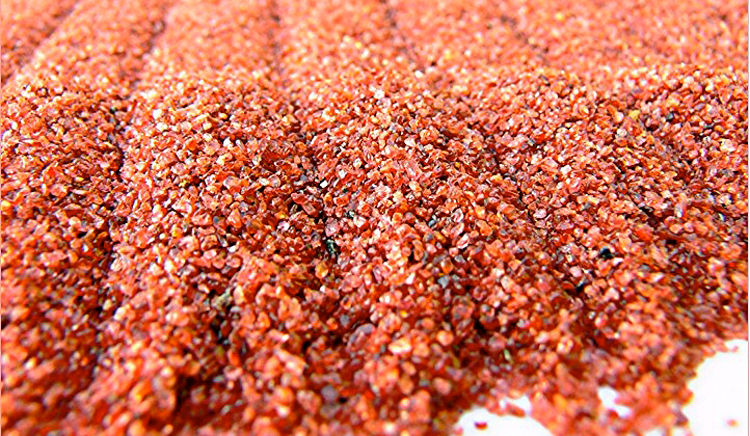 Applications of Garnet Sand Abrasive
Semi-precious stones are widely used on non-skid surfaces.
Garnet sand is a good abrasive and a common sand blasting alternative for silica sand. Rounder alluvial garnet grains are better suited to such blasting procedures. Garnet is mixed with very high-pressure water and used in water jets to cut steel and other things. Garnet mined from hard rock is ideal for water jet cutting because it is more angular in shape and hence more efficient in cutting.
Cabinetmakers choose garnet paper for bare wood finishing.
Garnet sand is also utilized as a filtration material for water.
Garnet can be split into two types as an abrasive: blasting grade and water jet grade. The garnet is crushed to finer grains as it is mined and collected; any fragments greater than 60 mesh (250 micrometres) are typically used for sand blasting. Water jet cutting typically uses pieces with a mesh size of 60 mesh (250 micrometres) to 200 mesh (74 micrometres). Glass polishing and lapping are done with the residual garnet fragments that are finer than 200 mesh (74 micrometres). The higher grain sizes are employed for speedier work while the smaller ones are used for finer finishes, regardless of the application.
Garnet Sand Abrasives Are Particularly Effective for
Aluminum and fiberglass structures
Bridges, docks, and shipyards
Powder coating and denim blasting
Industrial painting
Hangar decks
Confined spaces where low dusting is required
Garnet Sand Abrasive Manufacturer in India
Abrasive Shots is the leading manufacturer of garnet sand in India. We provide a selection of sizes to enable maximum production for sand blasting and water jet cutting applications. Our garnet sand is a naturally occurring mineral composed primarily of almandine garnet sand. This material is noted for its innate hardness and resilience, allowing it to perform better in abrasive applications. We also provide steel shot, SS shot, copper slag, steel grit, quartz shot, aluminum oxide, glass beads, etc. We are the leading manufacturer of surface preparation machines and exporter of abrasive media. Our main focus is customer trust and a good relationship with the client. We are focused on our quality products and customer satisfaction.
Our products are widely famous for their high purity. Thus, these products are available at market leading prices to our clients and are having various quality features that include:
High melting point
Acid and wear resistance
Chemical stability
Good acid-alkali resistance
To enable us to quote for your requirement, kindly give us the following info –
1. Particle size required (You may choose from above or give your own range).
2. Packing required.
3. Quantity required with a delivery schedule.
4. Destination port.
5. Payment terms.
6. Discharge rate at the destination, if in break-bulk.
7. Any other point which may impact the quote.
Additional Information
| | |
| --- | --- |
| Delivery Time | Minimum Delivery Time |
| Port Of Dispatch | All Indian Port |
| Production Capacity | 1500 mt Per Month |
| Packaging Details | 25 kg bags on 1t pallets, 1 ton loose in a big bag |
| Payment Terms | L/C (Letter of Credit)/T/T (Bank Transfer)/D/P/D/A |
You can reach out to us by dialing +91-9119207701 or by sending us an email at abrasivesshots@gmail.com. Contact us today!