An angular, durable blasting abrasive, Commercial aluminum oxide (or aluminum oxide) can be recycled many times. It is the most used abrasive grain in sand blasting machine for finishing and surface preparation because of its cost, longevity, and hardness. Harder than other commonly used abrasive blasting materials, aluminum oxide grit powder penetrates and cuts even the hardest metals and sintered carbide.
Commercial Aluminum oxide used as a grinding and polishing abrasive may be a cost-effective, quality, efficient media for tumbling operations that need quick edge rounding, surfacing finishing, or cleaning.
Commercial aluminum oxide contains less than 1.5% free silica and is, therefore, safer to use than sand. The grit size is consistent and cut much faster than garnet sand mesh, leaving a smoother surface. Generally, the larger the grit size, the faster the aluminum oxide will cut.
Specifications of Commercial Aluminum Oxide
| | |
| --- | --- |
| Packaging Type | Double Bag HDPE |
| Material | Aluminum Oxide |
| Color | Brown |
| Country of Origin | Made in India |
| Grit Size | 14 to 220 Mesh |
| Aluminum % | 40-45% |
| Minimum Order Quantity | 100 Kg |
Chemical Composition
| | | | | | |
| --- | --- | --- | --- | --- | --- |
| Index | Al2O3 | SiO2 | Fe2O3 | TiO2 | CaO |
| Typical value | 95.53 | 1.26 | 0.52 | 2.2 | 0.39 |
Advantages of Commercial Aluminum Oxide
Low friability
Low dusting
Low embedment rate
Angular particle shape
Fast cutting and sharp profile
Recyclable
Second hardest mineral after diamond
Applications of Commercial Aluminum Oxide
Lapping
Polishing
Refractory coating
Decorative and non-skid
Abrasive blasting.
Aluminum oxide can also be formulated for use in bonding applications to create slip-free surfaces on indoor and outdoor walkways, making it a preferred choice for preventing slip-and-fall accidents in industrial settings.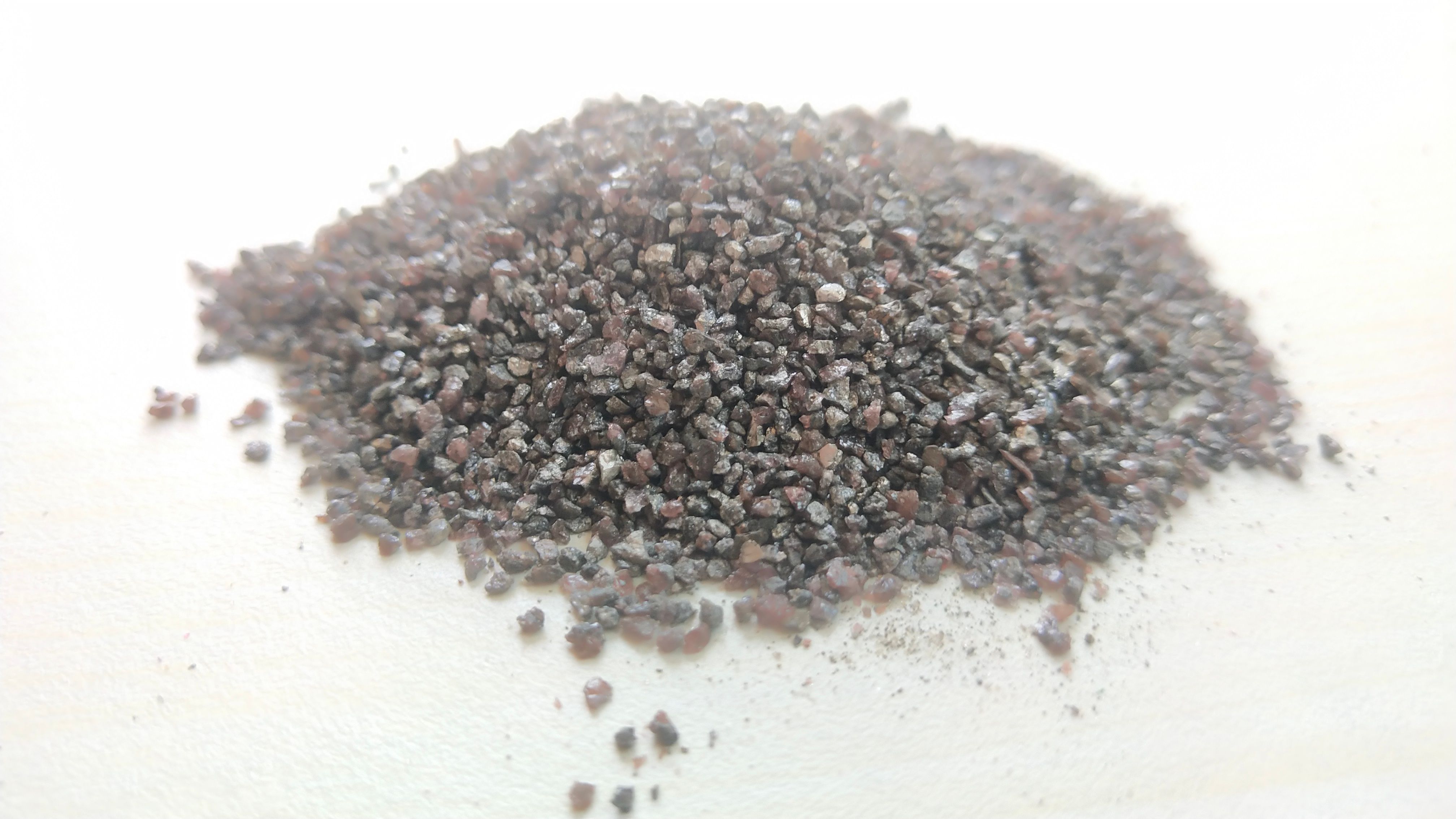 Properties of Commercial Aluminum Oxide
Sand blasting, etching, carving, surface preparation, anti-slip
Grades 12 through 1200 are available
Mohs 9 hardness
Tough & durable, low friability, fast cutting
Can be recycled multiple times
Sold in a variety of packaging options: Bags, Drums, Super Sacks
Samples available for testing prior to purchase
What can Commercial Aluminum Oxide be used for?
Commercial aluminum oxide, also known as commercial alumina, is one of the most widely used technical ceramics materials in a wide range of applications. Alumina injection molding is a manufacturing method that creates customized custom components for a variety of industries, with the following being the most common:
Medical Industry: Aluminum oxide's chemical characteristics, as well as its hardness and bio-inertness, make it a good material for bionic implants, tissue reinforcement, prosthesis, hip replacement bearings, and other medical applications.
Protective Equipment: Aluminum oxide's lightweight properties and strength make it an excellent material for improving body and vehicle armor, as well as generating synthetic-sapphire bulletproof ballistics and windows.
Electrical Industry: Aluminum oxide's high boiling and melting points make it an excellent material for high-temperature furnace insulation and electrical insulators in the electrical industry. In the semiconductor business, alumina is also commonly used.
Gem Industry: Aluminum oxide is utilized in the creation of sapphires and rubies in the gem business. Alumina is the base element for the formation of these two precious gems in their crystalline form, or corundum.
Industrial Application: Aluminum oxide is an excellent filler for bricks, polymers, and heavy clayware since it is chemically inert. It's also a popular abrasive component in sandpaper and a cost-effective alternative to industrial diamonds.
Commercial Aluminum Oxide Manufacturer in India
Abrasives Shots is the leading manufacturer of commercial aluminum oxide in India. We also offer abrasive media such as Steel Shot, SS Shot, Steel Grit, Garnet sand, Quartz shot, Aluminum oxide, glass beads blasting for stainless steel, etc, and a qualitative range of industrial steel abrasive products.
We have years of commercial alumina molding experience, and we have the skills and manufacturing capacity to turn your ideas and wishes into functional and long-lasting products. Tell us your exact requirements, and we'll come up with a solution.
To enable us to quote for your requirement, kindly give us the following info –
1. Particle size required (You may choose from above or give your own range).
2. Packing required.
3. Quantity required with the delivery schedule.
4. Destination port.
5. Payment terms.
6. Discharge rate at the destination, if in break-bulk.
7. Any other point which may impact the quote.
We can also offer ungraded material for shipments in bulk in any quantities as desired by our buyers on FOB or CNF FO basis terms.
You can reach out to us by dialing +91-9119207701 or by sending us an email at abrasivesshots@gmail.com. Contact us today!