Copper slag grit is made during copper extraction smelting. Slag ores are iron oxides and silicon oxides. Copper slag grit is used in surface blast cleaning. Copper slag grit is used to clean and shape the surface of metals, stones, and a variety of other materials. Copper slag grit is an abrasive grit that is less hazardous than other abrasive media. Each metal production generates roughly 2.2 tonnes of slag. Copper slag grit has a density of 3.16 to 3.87 g/m3 depending on the amount of iron it contains. Copper slag grit has a relative density of roughly 3.5 g/m3, indicating that copper slag is denser than natural aggregates.
Copper slag grit water absorption is often very low. As previously indicated, gradual cooling of liquid slag produces a dense, hard crystalline product, whereas rapid solidification of molten slag in water produces granulated amorphous slag. Because of its porous nature, granulated copper slag absorbs more water and has a lower unit weight than air-cooled copper slag.
Specifications of Copper Slag
| | |
| --- | --- |
| Material | Copper slag grit |
| Color | Black |
| Form | Slag |
| Density | 1.87 tons / m³ |
| Use | Sand blasting |
| Hardness on Moh's Scale | 6-7 moh's PH |
| Granule Shape | Angular |
Copper Slag Grit
Copper slag grit is used as a blasting media for metal surface cleaning and other mechanical devices that clean metal surfaces. To improve the quality of the blasting, copper slag grit was employed. Silicon and iron oxides are found in copper slag grit. Copper slag is a by-product of the smelting process, where impurities turn into slag, which is removed and used in various industrial operations. Copper slag grit has a fine binding agent that keeps the larger particles together and improves the concrete's characteristics. After the blasting process, copper slag can be recycled. Copper slag is used in the blasting process to remove thick and harsh dust and corrosion from heavy machines.
Copper slag grit provides great finishing, smooth edges, and cleaning. Copper slag comes in a variety of sizes. The size of the sand blasting nozzle determines the blasting size. Copper slag is used in a grit blasting machine that employs both compressed air and a wheel to blast. Copper slag grit is a less priced and high-yield blasting media that may be used in the blasting process. After blasting, the copper slag grit delivers a superb surface finish. A grit blasting cabinet and grit blast room system is used to recycle copper slag.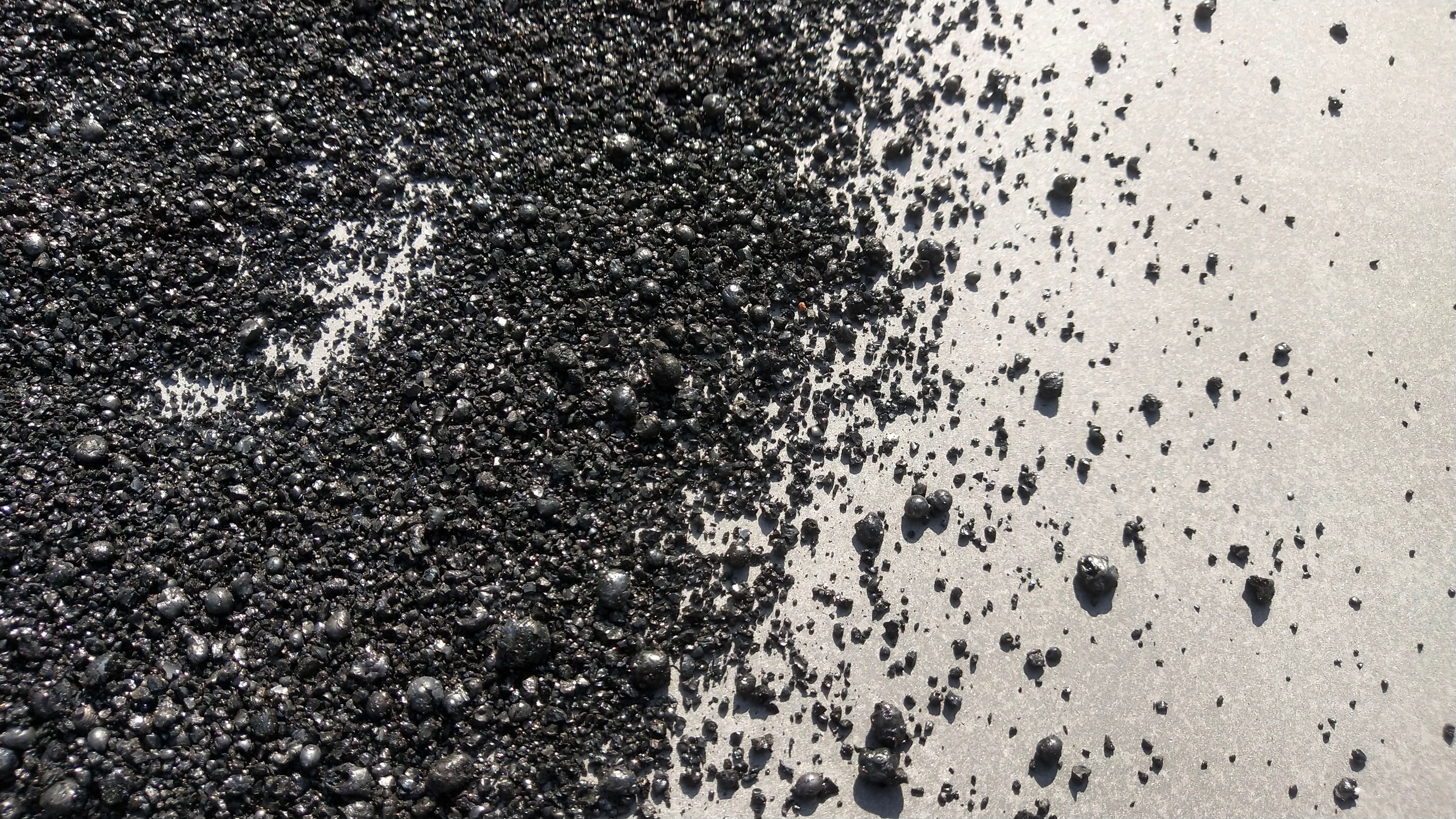 Copper slag is a fantastic product with its own set of features. Because of its synthetic and actual synthesis, which contains significant levels of iron, silica, and aluminum oxide, it is frequently used as a partial substitute for sand in concrete mixes. Although the majority of the copper slag is used in the sand blasting machine industries and in the assembly of abrasives devices, the remainder is wasted with no further use or recovery.
Applications of Copper Slag
Surface Preparation
Grinding Wheels
Corrosion Cleaning and rust removal
Cement Additive and as abrasive
Garment & Textile Blasting for surface cleaning
Roofing Granules
Advantages of Copper Slag
High cleaning speed
Low dust level
Abrasive consumption is low
Can be recycled
Silica levels are less
Copper Slag Grit Manufacturer in India
Abrasives Shots is one of the best manufacturers of copper slag in India at a low price. We also offer Steel Shot, SS Shot, Steel Grit, Garnet Sand, Aluminum Oxide, Quartz Shot, Glass Beads, etc, and a qualitative range of industrial steel abrasive products.
To enable us to quote for your requirement, kindly give us the following info –
1. Particle size required (You may choose from above or give your own range).
2. Packing required.
3. Loading permissible per 20' HD FCL, if in containers.
4. Quantity required with the delivery schedule.
5. Destination port.
6. Payment terms.
7. Discharge rate at the destination, if in break-bulk.
8. Any other point which may impact the quote.
We can also offer ungraded material for shipments in bulk in any quantities as desired by our buyers on FOB or CNF FO basis terms.
Additional Information
Delivery Time- Minimum Days
Port of Dispatch- All Indian Ports
Production Capacity- 3000 Mt
Packaging Details- Export Worthy Packing
Payment Terms- L/C (Letter of Credit)/T/T (Bank Transfer)/D/P/D/A
You can reach out to us by dialing +91-9119207701 or by sending us an email at abrasivesshots@gmail.com. Contact us today!