Cut Wire Shot is the media of preference for peening, cleaning, tumbling, and vibratory finishing. It is widely used in wheel blast equipment. It can be of two shapes as-cut (cylindrical with sharp edges) or conditioned (rounded to a sphere). Cut Wire Shot is formed from cold drawn spring steel wire with a high carbon (C) content that is obtained by cutting wire into lengths equal to the wire diameter and then conditioning (rounding) it if necessary. Cut-wire shot is of high quality because the wire used to make it is heat-treated and cold drawn to achieve hardness and homogeneity. Cut-wire shot will not fracture, break, or powder due to this, as well as the balanced chemical qualities and total solidity of each piece. These cut wire shots are highly durable in nature and can be customized to various specifications. They are high in versatility, and these can be made from various different materials. Our product range is as follows:- Carbon Steel Cut Wire Shot, Low Hardness High Manganese Steel Cut Wire Shot, Stainless Steel Cut Wire Shots, Zinc Cut Wire Shots, Aluminum Cut Wire Shots, Brass Cut Wire Shots, Copper Cut Wire Shot, etc.
Specifications of Cut Wire Shot
| | |
| --- | --- |
| Material | Stainless Steel |
| Shape | AS CUT, CONDITION, ROUND |
| Size | 0.60-2.50MM |
| Color | BRIGHT |
| Packaging Type | HDPE Bag |
| Usage/Application | Automobile Industries |
| Technique | Cold Rolled |
Sizes Available
Cut-wire
size (in.)
Cut-wire
size (mm)
Equivalent
Cast Shot Size
.012
0.30
S-70
.014
0.35
S-110
.017
0.45
S-110
.020/.023
0.50/0.60
S-170
.028
0.70
S-230
.032/.035
0.80/0.90
S-280
.035/.041
0.90/1.00
S-330
.041/.047
1.00/1.20
S-390
.054
1.40
S-460
.062
1.60
S-550
.080
2.00
S-660
.090
2.25
S-780
Types of Cut Wire Shots
We manufacture various types of Cut Wire Shot which can be listed as follows:
AS CUT
Because of its sharp edge, it's best used for cleaning where speed is crucial and a slightly rough finish is acceptable. However, it is not recommended use for peeing operations since it can impair fatigue life.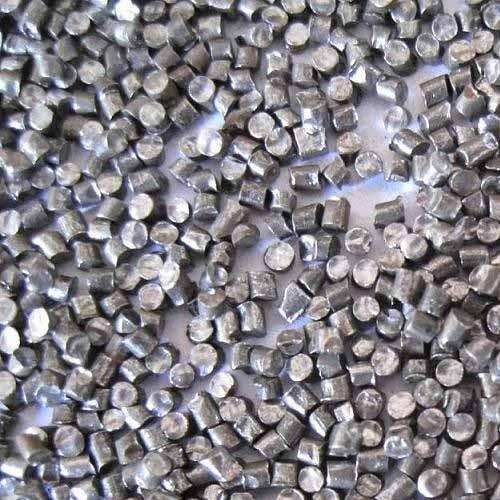 CONDITIONED
Shots that have been rounded off by a conditioning process. Cut wire shot made of conditioned carbon steel is a precise instrument. It is manufactured from carbon steel wire of a specific diameter and tensile strength using special cutting machinery and then shot blasted. It is most commonly employed in the shot peening process, as well as in other industries such as the automotive, aerospace, and shipping industries.
Spherical Conditioned Cut Wire- G1 (Normal Conditioned)
Spherical Conditioned Cut Wire- G2 (Double Conditioned)
Spherical Conditioned Cut Wire- G3 (Special Conditioned)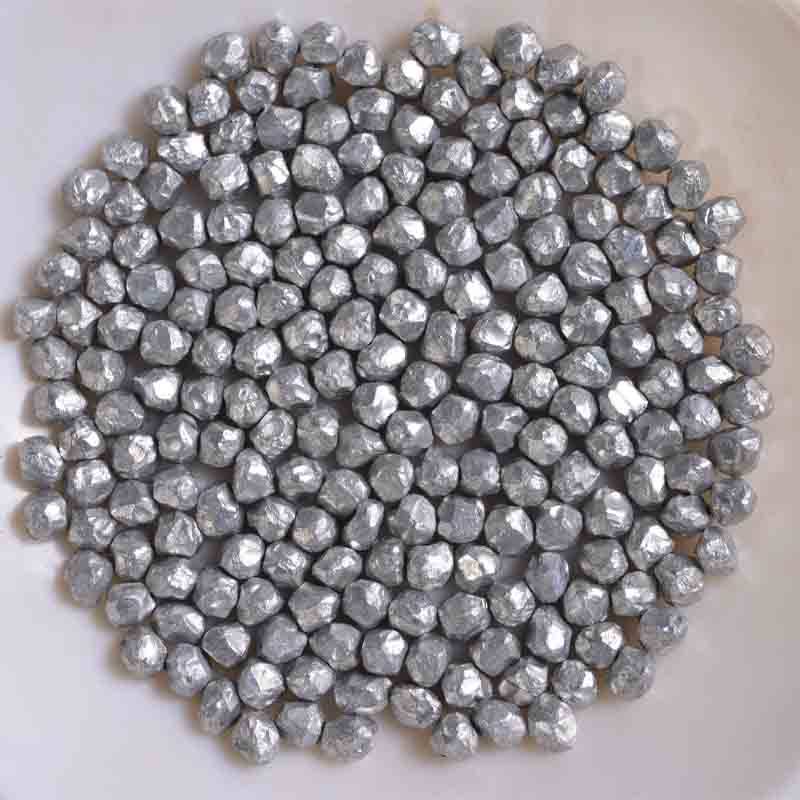 Carbon Steel Cut Wire Shot
Cast steel abrasives are often replaced by carbon steel cut wire shot. This is especially useful in peening/blasting situations where a higher level of abrasive hardness is desired or when the peened/blasted components have a high level of inherent hardness. It's the perfect abrasive for the shot peening and blasting.
General Information
Abrasive: Carbon steel cut wire shot
Shape: Round, conditioned, As-cut
Application: Shot Peening, Shot Blasting Machine
Chemical Composition
C 0.45 – 0.85 % P max. 0.04 %
Mn 0.30 – 1.20 % S max. 0.05 %
Si 0.10 – 0.35 %
Physical Properties
Hardness Standard: 40–52 HRC (400–550 HV1)
High: 55–62 HRC (600–750 HV1)
Sizes: 0.3mm to 2.8mm.
MicroStructure: Tempered Martensite.
Porosity: NIL
BlowHoles and Tails: NIL
Fine Grain Size: Due to fine grain it does not break during shot blasting/peening, instead reduces in shape and size.
Density: min. 7.8 g/cm³
Packing: Packed In 25 kgs HDPE Double bags.
Lifecycle: 4500+
Industries Uses
Foundries, Forgings, Automobile Components, Gears & Springs, Heat Treatment Shop, Non-Ferrous Castings, Plate Preparation, Railway Wagon & Defense, Earthmovers, Aeronautics, Steel Fabrication, and other various types of applications.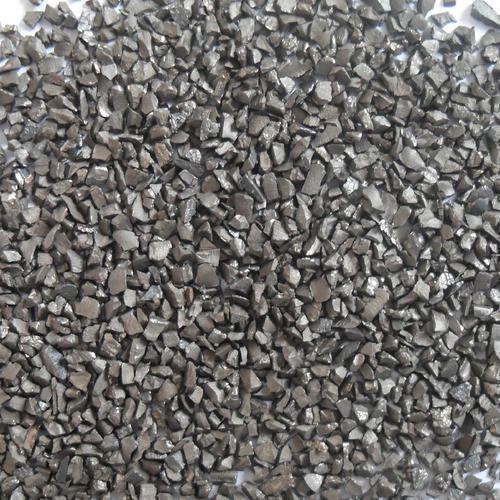 Higher-Manganese Low Carbon Conditioned Wire Shot
Apart from the positive visual benefits, if components are blasted with wire shots to generate the surface polish, production economics plays a vital role. If the component hardness is less than 40 HRC, it is considered low-hardness. The first choice is a high-manganese steel cut wire shot. The exceptional qualities of this abrasive include a great lifespan due to a higher Manganese percentage and minimal plant wear and tear.
The usage of High-Manganese spring steel wire with low hardness is favorable. This abrasive grit is impact-resistant and absorbs impact uniformly throughout the entire shot surface. The lower the hardness, the longer the lifespan. Unlike high-carbon abrasives, no surface cracks are visible, resulting in significantly longer plant component longevity with minimal wear.
General Information
Abrasive: High Manganese Low Hardness steel cut wire shot
Shape: Round, conditioned
Application: Shot blasting
Chemical Composition
C 0.10 –0.40 % P max. 0.035%
Mn 1.20– 1.70% S max. 0.035%
Si 0.10– 0.25%
Physical Properties
Hardness Standard: 35–40 HRC (350–400 HV1)
Sizes: 0.6mm to 2.0mm.
MicroStructure: Tempered Martensite.
Porosity: NIL
Fine Grain Size: Due to fine grain it does not break during shot blasting, instead reduces in shape and size.
Density: min. 7.8 g/cm³
Packing: Packed In 25 kgs HDPE Double bags.
Life cycle: 5400+
Industries Uses
Forgings, Steel Fabrication, Bright Bar, Pre Engineering Steel Structure, Descaling, Deburring, LPG Cylinders, Tipper, Trailer, etc. Any component having a hardness less than 400HV.
Advantages of Cut Wire Shots
Most economical, cheap and has the lowest consumption
Consumption 3-4 times less compared to cast shot
No dust formation while used in the process
Provide a faster cleaning rate.
Environment friendly in nature
Has uniform hardness
Stabilized grain size in appearance
Applications of Cut Wire Shots
Cut Wire Shots (also known as pellets) are used to clean, deburr, descale, fettle, and shot peen iron and steel components. Various hardness ranges are available depending on the application. The harder the material, the less durable it is. Wire cut shots have left a surface that is extraordinarily brilliant and smooth. It's a full-bodied shot with no scales or oxides; it produces no dust and leaves a cleaner, brighter surface than other abrasives.
Features of Cut Wire Shots
Its cylindrical shape with rounded corners makes cleaning easier. The cleaning rate of your Blasting Machine will eventually be boosted by at least 25%.
When shot blasting a tonne of material, you'll need 4 kg of shot, however with cut wire shots, you'll only need 1.5 kg.
Excellent homogeneity and equal hardness and size.
The cut wire shots become conditioned (spherical) after a few hours of use during the shot blasting process due to their natural inclination
Shots live for days and weeks due to their fine grain size, until each one is reduced to a microparticle; they do not break down into dust.
Because cut wire shots keep peening intensity longer than any other shot type, components peened/blasted with cut wire shots have a substantially longer life than those peened/blasted with any other shot type.
The shot used in shot peening/blasting should be at least as hard as Almen strips or the peened/blasted portion.
Cut wire shots minimize maintenance and warehouse costs by being utilized in more cycles (3-5 times).
Surface Contamination is reduced.
There are no blowholes, tails, or porosity in this substance.
Shot peening/blasting time can be cut down.
Unlike other abrasives, it cleans quickly and leaves a brilliant, smooth finish.
Increases the blasted objects' fatigue life.
During operation, there is no dust or health risk.
We have tested various samples of different kinds of abrasives & found the following results:
| | | | | |
| --- | --- | --- | --- | --- |
| Test | HC Cut Wire Shot | High Manganese Cut Wire Shot | Superior Quality Steel Shot | Regular Steel Shot |
| Life Cycle | 4500+ | 6000+ | 2800 | 1900-2000 |
Cut Wire Shot Manufacturer in India
Abrasives Shots is one of the leading manufacturers of Cut Wire Shots in India at an affordable price. We also provide steel shot, SS shot, copper slag, steel grit, garnet sand, quartz shot, aluminum oxide, glass beads, etc. Our wide & large range of products is checked on various parameters, such as density, physical and chemical properties, microstructure, hardness, and durability. We produce a range of metallic abrasives to meet every requirement for shot peening/blasting operations. The company's high-quality products are used in a wide range of applications from sand removal for foundry & automobile components to shot peening in springs and the aeronautics industry.
To enable us to quote for your requirement, kindly give us the following info –
1. Particle size required (You may choose from above or give your own range).
2. Packing required.
3. Quantity required with the delivery schedule.
4. Destination port.
5. Payment terms.
6. Discharge rate at the destination, if in break-bulk.
7. Any other point which may impact the quote.
We can also offer ungraded material for shipments in bulk in any quantities as desired by our buyers on FOB or CNF FO basis terms.
You can reach out to us by dialing +91-9119207701 or by sending us an email at abrasivesshots@gmail.com. Contact us today!