Black aluminum oxide is an abrasive that's one of the toughest minerals available. Black aluminum oxide is made through the electrofusion of bauxite, iron oxide, and micro-elements during a tilting arc furnace. It can be produced in a variety of sizes from grains to micro-powders and is one of the most economical media available for a wide collection of dry and wet processing applications. Aluminum oxide is insoluble in water. Its most usually occurring crystalline form, is called corundum or α-aluminum oxide. Its hardness makes it suitable for use as an abrasive and as an element in cutting tools. Aluminum oxide is bound for the resistance of metallic aluminum to weathering.
Specifications of Black Aluminum Oxide
| | |
| --- | --- |
| Country of Origin | Made in India |
| Purity | 91% |
| Standard Grade | 8 Mesh To 320 Mesh |
| Uses | Sand Blasting, Grinding, and Cutting Wheel Making |
| Packaging Type | Bag |
| Packaging Size | 50 kg |
| Minimum Order Quantity | 50 kg |
Chemical Composition
| | | | | |
| --- | --- | --- | --- | --- |
| Grit Size | Al2O3 | Fe2O3 | SiO2 | TiO2 |
| 10#-220# | >78.00 | >5.0 | >9.00 | 1.5-3.5 |
| 240# | >66.00 | >5.0 | >10.0 | 1.5-3.0 |
Black Aluminum Oxide Abrasive
Black Aluminum Oxide (Black Corundum) picks and uses bauxite, and iron oxide raw materials, and adds additional microelement abortive smelt by tilting arc furnace, assuring that all piece shape black corundum is of good quality. Few impurities, high grade, and consistent quality set the stage for grain-size sands and micro-powder with mild rigidity, fine tenacity, and outstanding service performance.
It can be used to polish a wide range of spare components, including bicycles, sewing machines, hard metal tools, medical equipment, clocks, glass items, and stone grinding. It's also an excellent material for abrasive tools: Cutting wheels with fiber reinforcement, grinding wheels, sand cloth, paper, and paste
Features of Black Aluminum Oxide
High hardness
Strong tenacity
Better bonding ability and hydrophilicity
Giving less heat
Good self-sharpening
Smooth surface
High finish
Applications of Black Aluminum Oxide
Sand blasting/blast cleaning.
Denim blasting.
Filtration etc.
Grinding and polishing of stainless steel.
Optical glass, bamboo, or other materials.
For polishing various spare parts: bicycles, glass products, sewing machine, hard metal tools, medical apparatus, timepieces, and stone grinding.
For making abrasive tools: Fiber-reinforced for cutting wheels, grinding wheels, sand cloth, paper, and paste.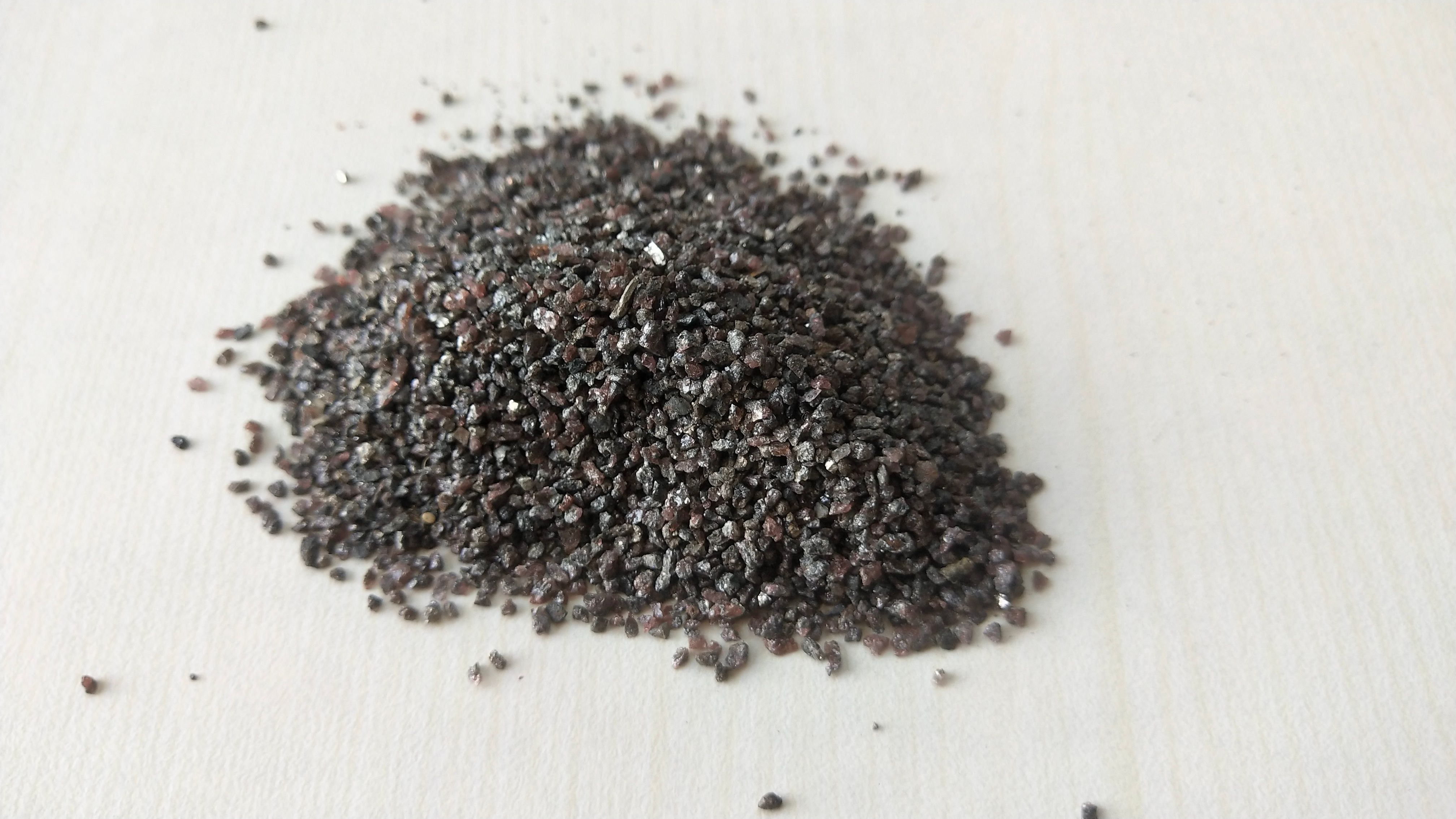 Advantages of Black Aluminum Oxide
Highly durable and reusable
Long-lasting
Harder than most blasting media
Fast cutting action
Very heavy to light etching on multiple types of surface
Available in a wide variety of mesh/grit sizes
Lighter than metallic media with a denser blast brook
Silica free
Black Aluminum Oxide Packaging
In 25kg plastic woven bags
In 1000kg big bags
40 x 25kg plastic woven bags into one big bag
40 x 25kg plastic woven bags on pallets
40 x 25kg paper bags on pallets
According to the client's requirement
Black Aluminum Oxide Manufacturer in India
We offer an abrasive shot, Steel Shot, SS Shot, Steel Grit, Garnet sand, Quartz shot, Aluminum oxide, glass beads blasting for stainless steel, etc, and a qualitative range of industrial steel abrasive products.
We are a professional Black Aluminum Oxide producer with over 19 years of experience in the industry. Free samples, fast delivery, and 24-hour service! High quality and competitive factory price! We have a 35,000m2 workshop, a highly qualified crew, and cutting-edge production equipment. So we're confident in our ability to meet your Black Aluminum Oxide needs!
We understand that as customers, you want the Black Aluminum Oxide at the lowest price possible. We promise to supply you with the finest service, factory price, and dependability possible! We will provide you with the same level of service that we provide to all of our current customers, large and small. We are excited to collaborate with you!
To enable us to quote for your requirement, kindly give us the following info –
1. Particle size required (You may choose from above or give your own range).
2. Packing required.
3. Quantity required with the delivery schedule.
4. Destination port.
5. Payment terms.
6. Discharge rate at the destination, if in break-bulk.
7. Any other point which may impact the quote.
We can also offer ungraded material for shipments in bulk in any quantities as desired by our buyers on FOB or CNF FO basis terms.