For quick and cost-effective paint removal, blast cleaning, deflashing, and deburring, plastic abrasives come in five hardness grades. Plastic Blast Media produces outstanding cutting results without marring or harming even the most delicate surfaces. Anti-slip fillers made of plastic abrasives are extensively used in paints, flooring, varnishes, and non-skid aggregate compositions. Operators can remove paint and coatings from aluminum and steel using plastic media without warping, marring, or pitting the surfaces, or compromising mechanical functions, bearings, or seals. Surfaces are scraped smooth for new paint and coating applications after using plastic media. When employing acceptable blast parameters, hard abrasives such as sand, steel shot, and aluminum oxide can damage surfaces; however, plastic blast media offers excellent alternatives for effective paint removal without hurting even delicate surfaces.
Specifications of Plastic Abrasive
| | MOH | BARCOL | SPEC. GRAVITY | APPLICATIONS |
| --- | --- | --- | --- | --- |
| TYPE II UREA | 3.5 | 54 - 62 | 1.47 - 1.52 | Cars, Trucks, Airplanes |
| TYPE III MELAMINE | 4 | 64 - 72 | 1.47 - 1.52 | Turbines, Mold Cleaning, Tough Primers |
| TYPE VI CLEAR-CUT | 3 | na | 1.24 - 1.32 | Fiberglass, Aluminum, Corvettes, Composites |
| TYPE V ACRYLIC | 3.2 - 3.5 | 46 - 54 | 1.1 - 1.2 | Cars, Trucks, Airplanes, Boats, Motor Homes |
| TYPE I POLYESTER | 3 | 34 - 42 | 1.15 - 1.25 | Electronics, Soft Metals, Fiberglass |
Sizes Available
| | | |
| --- | --- | --- |
| U.S. STANDARD SIEVE | INCHES | MILLIMETERS |
| 12/16 | 0.066-0.047 | 1.70-1.18 |
| 16/20 | 0.047-0.033 | 1.18-0.85 |
| 20/30 | 0.033-0.023 | 0.85-0.60 |
| 30/40 | 0.023-0.016 | 0.60-0.42 |
| 40/60 | 0.016-0.010 | 0.42-0.25 |
| 60/80 | 0.010-0.007 | 0.25-0.18 |
Types of Plastic Media Abrasive
All the types of plastic media abrasives are mentioned below:
TYPE II UREA
The most versatile plastic abrasive for stripping paint and removing coatings from cars, aircraft, trucks, trailers, trains, vans, buses, and steel is Type II Urea media. Composition Materials has been custom manufacturing plastic media abrasives from 100% recycled raw materials for low-cost, ecologically friendly paint removal with rapid cutting action for more than 30 years. Urea plastic blast media is available in a variety of sizes, ranging from coarse to fine, as well as bespoke sizing. Optimal blast parameters (psi and nozzle distance) ensure the greatest results while blasting. Urea abrasives and powders are also good filler materials for a range of industries. Urea media is strong, long-lasting, light, and manufactured entirely of recycled materials. Paint additives, texturing, thickening, and anti-slip particles are all examples of filler applications.
Mesh Size Available
8/12
12/16
12/20
16/20
20/30
20/40
30/40
40/60
60/80
60/100
-100
TYPE III MELAMINE
Melamine Blast Media is custom-made and supplied from recyclable resources. Type III plastic medium is the toughest and most aggressive. Melamine can be used to clean molds, de flash surfaces, remove stubborn paints and coatings, and clear grit and dirt off engines, turbines, and parts. All standard grades are available.
Mesh Size Available
8/12
12/16
12/20
16/20
20/30
20/40
30/40
40/60
60/80
60/100
-100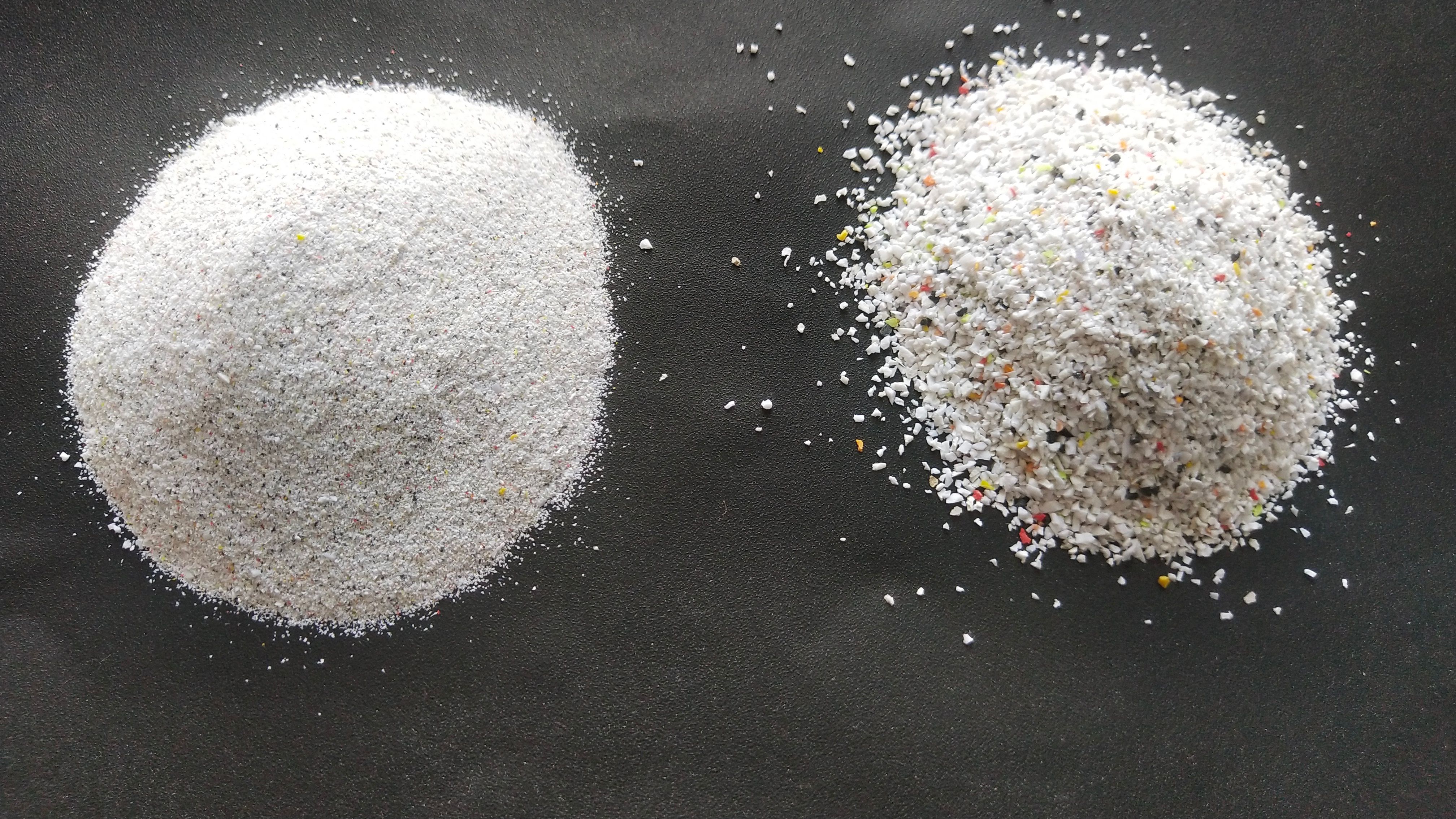 TYPE VI CLEAR-CUT
Type VI protects the surface profile of sensitive parts, fiberglass, composites, plastics, anilox rolls, and Corvettes during blasting operations. All standard sizes are available. This clear-white abrasive works well as a filler and additive in resin, epoxy, urethane, and counter-tops, as well as a durable non-skid aggregate in flooring, paints, and coatings. We offer a wide range of standard sizes, from coarse granular to superfine powders, as well as custom sizing.
Mesh Size Available
8/12
12/16
12/20
16/20
20/40
30/40
40/60
60/80
60/100
-100
TYPE V ACRYLIC
Acrylic Blast Media is recommended for stripping paint and coatings from cars, aircraft, trucks, tractors, rail cars, vans, motor homes, and marine vessels because it is softer than Urea or Melamine. Acrylic is a versatile, long-lasting blasting media that produces effective effects on softer substrates and materials. Acrylic abrasives are also available for use as a lightweight filler and aggregate. All regular sizes are available.
Mesh Size Available
8/12
12/16
12/20
16/20
20/30
20/40
30/40
40/60
60/80
60/100
-100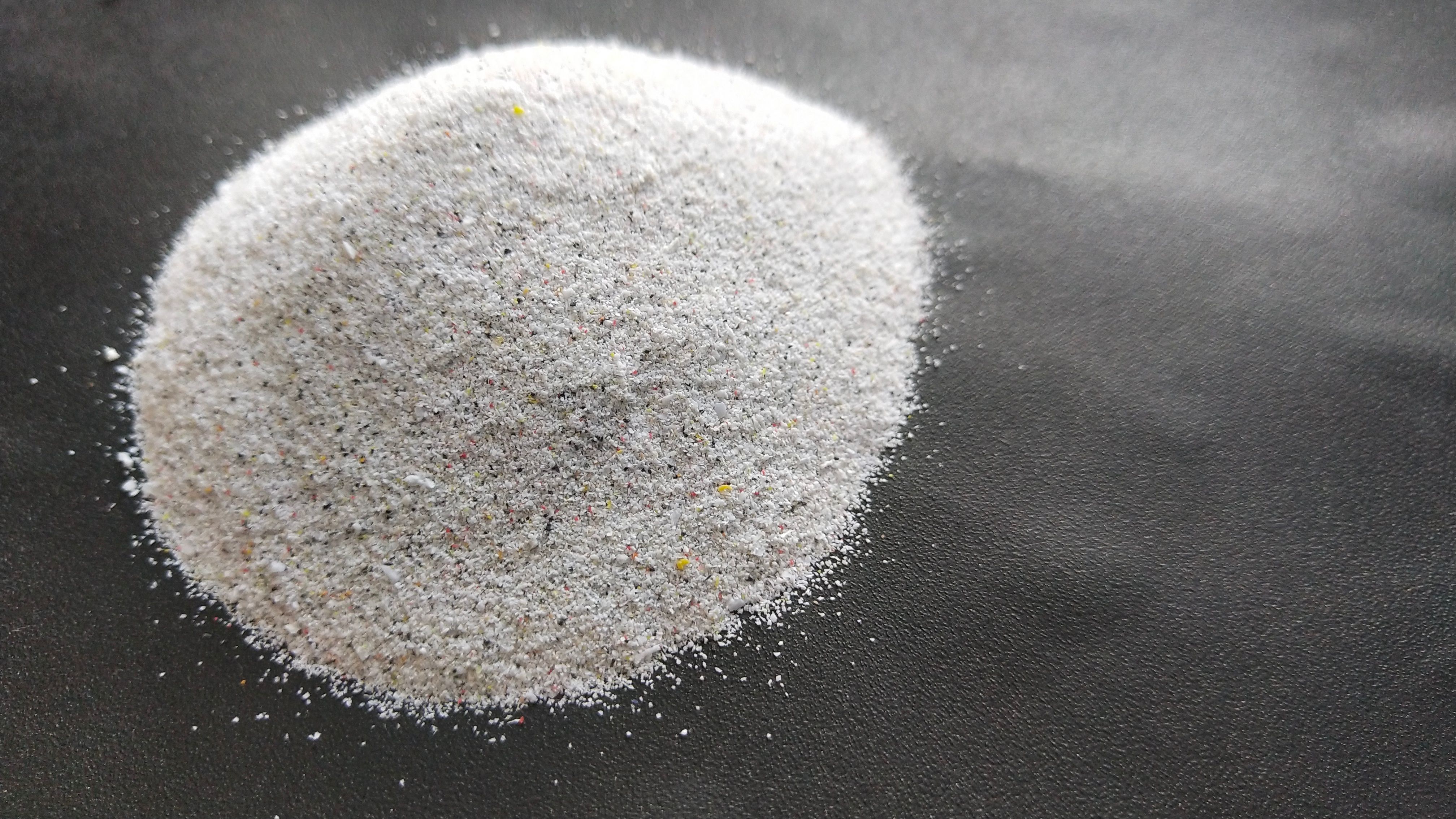 TYPE I POLYESTER
Type I polyester plastic media is a soft abrasive that can be used to blast composites, plastics, and fiberglass, as well as deflash electrical components without causing damage to delicate parts. All regular sizes are available.
Mesh Size Available
8/12
12/16
12/20
16/20
20/30
20/40
30/40
40/60
60/80
60/100
-100
Characteristics of Plastic Media Abrasive
Angular, Lightweight Material- Plastic media is an angular, lightweight substance that comes in a variety of hardness levels to satisfy a variety of metal finishing needs. This makes it suitable for removing organic coatings without harming the surface of the underlying component.
A Preferred Choice for Stripping- For stripping and cleaning applications involving aluminum composites and other fragile materials, plastic is the preferred material.
High-Velocity Applications- Because the plastic particles are small in weight, the plastic media blasting equipment can apply the material at a high velocity without adding substantial bulk, allowing for a very quick stripping operation.
Applications of Plastic Media Abrasive
Automotive
Aviation
Boating
Burr Removal
Composites
Deflashing
Die Castings
Engines
Maintenance
Molds
Plastic Parts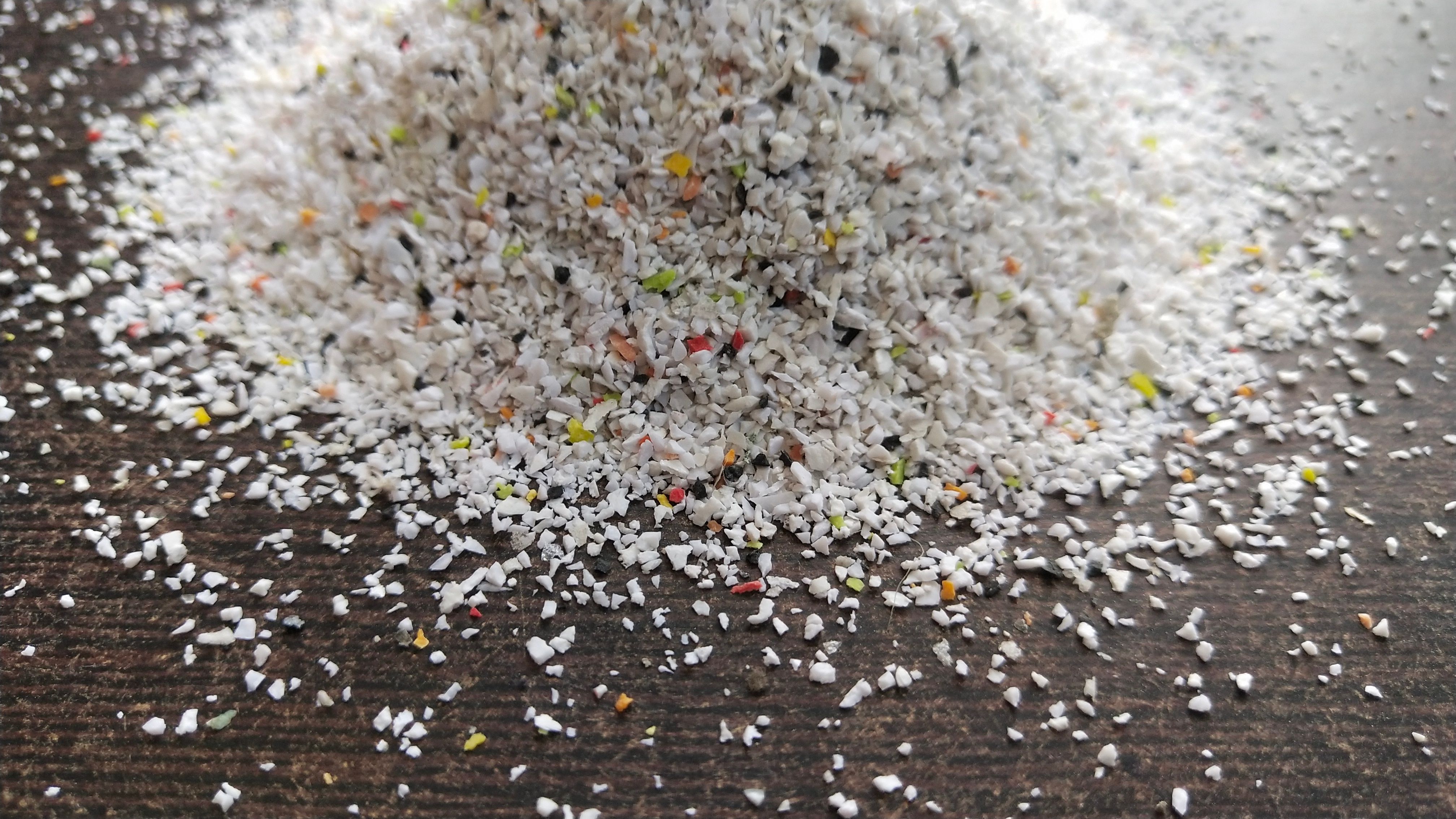 Plastic Media Abrasive Manufacturer in India
Abrasives Shots is the leading manufacturer of plastic media abrasives at an affordable price in India. We are also the supplier of steel grit, garnet sand, copper slag, cut wire shots, quartz shot, aluminum oxide, etc. Our main aim is to satisfy our customers by giving them the best products and we are committed to the quality integrity and transparency of our business.
We are backed by a competent team, which assists us in our entire business operation starting right from procurement of raw materials to the delivery of made flawless products. It's the effort of our team, which has made us able to meet the client's demands within the stipulated time frame. Our client-centric approach and transparency in dealings have supported us to establish a wide clientele in East Asia, South East Asia, and the Middle East.
To enable us to quote for your requirement, kindly give us the following info –
1. Particle size required (You may choose from above or give your own range)
2. Packing required
3. Quantity required with a delivery schedule.
4. Destination port
5. Payment terms.
6. Discharge rate at the destination, if in break-bulk.
7. Any other point which may impact the quote.
We can also offer ungraded material for shipments in bulk in any quantities as desired by our buyers on FOB or CNF FO basis terms.
Additional Information
| | |
| --- | --- |
| Delivery Time | Minimum Time |
| Packaging Type | Boxes – 50 lbs. net, Fiber Drums – 250 lbs. net |
You can reach out to us by dialing +91-9119207701 or by sending us an email at abrasivesshots@gmail.com. Contact us today!