Aluminum Oxide Grit is a sharp, long-lasting abrasive media that is highly efficient and highly reusable/recyclable thus cost-effective in nature. Harder than most blast media, Aluminum Oxide Blast Media, the powder will clean and etch quickly on all types of surfaces. Grits of this abrasive media are best for preparing the surface for the polishing and coating of blasting surfaces. It is also used often for surface cleaning because of the rugged nature of this blasting media. The small grit particles and powder strike the area with compression and clean hard corners easily. Approximately it is 50% lighter weight blasting media than metallic media, aluminum oxide abrasive grain has twice the number of particles per pound. The fast-cutting action of aluminum oxide grit minimizes damage to thin materials by eliminating surface stresses caused by heavier, slower cutting media.
Specifications of Aluminum Oxide Grit
| | |
| --- | --- |
| Material | Aluminum |
| Colour | Brown |
| Hardness | HRC 9.0 |
| Minimum density | 3.9 gm/cm3 |
| Grain Shape | Angular |
| Bulk Density | 123 lbs / ft3 |
| Minimum Order Quantity | 100 Kilogram |
Types of Aluminum Oxide Grit
There is various type of Aluminum Oxide Grit:
White Aluminum Oxide Grit
White aluminum oxide grit is sharp yet gritty and hard abrasive media, it can infiltrate/invade deep into metal and clean thick blasting surface because of its outstanding dirt cleaning the property. Mostly, White aluminum oxide is used for treating surfaces for repainting. This abrasive media has high recycled life and is a great money saver in nature. White aluminum oxide blasting media has a vast spectrum of applications. it has inclusive of cleaning engine heads, valves, pistons, and turbine blades in the aircraft and automotive industry by process of blasting. It is also an outstanding choice for preparing a hard surface for painting. White aluminum oxide contains less than 0.2% free silica and is safer to use in comparison with sand. The grit size is compatible and cuts much faster than other sand blasting abrasive media, leaving a smoother and clean surface.
Black Aluminum Oxide Grit
The abrasive black aluminum oxide grit is one of the most powerful crystals available. It's made in a tilting arc forge by electrofusion of bauxite, iron oxide, and micro-elements. It can handle a wide range of sizes, from grains to micro powders, and is one of the most cost-effective media for a number of dry and wet processing applications.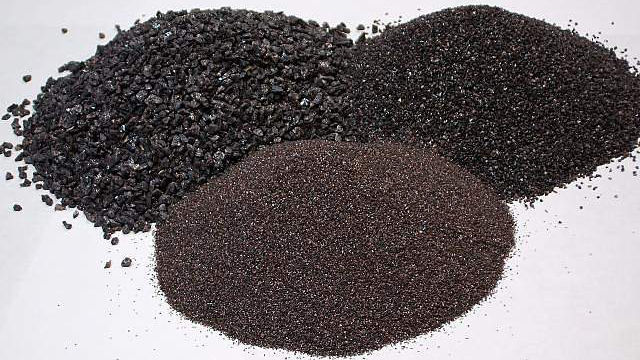 Brown Aluminum Oxide Grit
As aluminum oxide grit has high toughness, brown fused aluminum oxides are suggested for utilization in bonded abrasives such as grinding wheels and cutoff wheels, coated abrasive media (paper & cloth), sand blasting abrasive media, as well as refractory applications. Brown Aluminum Oxide grit is a low-iron content abrasive material that will not leave any rust on the blasting surface of our object/ surface. Rust deposits can often cause problems in coming future processes.
We supply all sizes according to customers' needs, Our Standard size is
Grit 80
Grit 90
Grit 100
Grit 120
Grit 220
Virgin Aluminum Oxide Grit
High-quality, tough, and long-lasting virgin oxide blasting abrasive. This could be the best abrasive blast medium on the market for use in shot blasting cabinets and any other application that requires recyclable media. Compound manufacturing and resin grinding wheels use our virgin oxide blasting abrasive.
Application of Aluminum Oxide
It is used in various different types of applications:
Abrasive Blasting – Surface preparation & paint stripping
Etching to ensure a coatings' adhesion & performance
Lapping
Non-Skid
Refractory Coating
Decorative
Aluminum Oxide Price in India
As the leading Manufactures of Aluminum Oxide in India, we manufacture Aluminum Oxide best quality products at affordable prices. We are the Supplier & Exporter of aluminum oxide powder, aluminum oxide abrasive, black aluminum oxide, white aluminum oxide, brown aluminum oxide, pure aluminum oxide, commercial aluminum oxide, and aluminum oxide blast media at a low price in India. Aluminum oxide abrasive can be used in sand blasting machine, sand blasting cabinets, shot blasting machines, and grit blasting machines. The Price of Aluminum oxide depends on the size & type of aluminum oxide grit.
To enable us to quote for your requirement, kindly give us the following info –
1. Particle size required (You may choose from above or give your own range).
2. Packing required.
3. Quantity required with the delivery schedule.
4. Destination port.
5. Payment terms.
6. Discharge rate at the destination, if in break-bulk.
7. Any other point which may impact the quote.
We can also offer ungraded material for shipments in bulk in any quantities as desired by our buyers on FOB or CNF FO basis terms.