Steel shots, as its name indicates, are created from molten steel that has been atomized. They're constructed to last and come in a variety of shapes and sizes. In comparison to other abrasives, they are spherical, bright, and forceful. Steel Shots media are mostly used in the following industries: ferrous and non-ferrous foundries, steel mills, coating, forge shops and metal fabricators, sand removal and improved metal surface preparation, and so on. Because the process is non-abrasive, the steel shots create the least amount of dust. We provide all types of abrasive media like steel shots, stainless steel shots, mild steel shots, steel grit, glass beads, aluminum oxide, copper slag, cut wire shot, etc.
Steel Shot
Steel Shot is an extremely low breakdown rate; even no dust is produced in the manufacturing process. Delivering high-impact energy and fast cleaning rates, Steel Shots is used to produce a very bright finish. The grade or size of the steel shots helps in determining the finishing achieved on the surface of the metal. Steel shot in India with a small size will result in a smoother and more polished surface. Steel shots blast media with large sizes will clean more aggressively but produce a rougher surface. Both pneumatic machines and wheel shot blasting machine can be used to accelerate the steel shots onto the blasting surface. Due to its hardness and density, it can be recycled 3000 times before replacement. In the manufacturing of steel shots, a minimal amount of dust is created in the blasting process. Cast steel shots are essentially used to clean metal surfaces and parts like desanding and cleaning foundry castings, descaling metal sheets, and surface preparation before coating.
Specifications of Steel Shots
| | |
| --- | --- |
| Hardness | SS 40-50 SL 50-60 SH 63+ |
| Quantity Per Pack | Standard Packing of 25 Kgs |
| Packaging Type | Standard Packing |
| Specific | 25 KGS |
| Country of Origin | Made in India |
| Minimum Order Quantity | 25 kilogram |
Steel Shot Sizes
| | |
| --- | --- |
| SAE Number | Size in mm |
| S - 70 | 0.180 |
| S - 110 | 0.300 |
| S - 170 | 0.425 |
| S - 230 | 0.600 |
| S - 280 | 0.710 |
| S - 330 | 0.850 |
| S - 390 | 1.000 |
| S - 460 | 1.180 |
| S - 550 | 1.400 |
| S - 660 | 1.700 |
| S - 780 | 2.000 |
Chemical Composition
| | |
| --- | --- |
| Carbon | 0.6-1.25% |
| Silicon | 0.2-1.1% |
| Manganese | 1.25%Max |
| Sulfur | 0.08%Max |
| Phosphorus | 0.08%Max |
| Shape | Round |
| Density | 7 gm/ml Min. contains hollow shots of 10% max |
| Hardness | 400-500 HV |
| Micro Structure | Tempered Martensite |
Custom Hardness
| | |
| --- | --- |
| Shots | HRC |
| SS | 40-50 |
| SL | 50-60 |
| SH | 63 |
Steel Shots Price in India
Steel Shots price depends on its different various factors such as the size & hardness of steel shot in India. steel shots price also depends on the quality and quantity of steel shot in India. At various stages of primary metal production, blast cleaning with steel abrasives is a significant activity. The various types and sizes of steel shots produce an outstanding outcome on metal surfaces. Due to its strength and longevity, it creates the most cost-effective abrasives with a recycling capacity of more than 30 times. A bigger steel shots media cleans a rougher surface more aggressively. Both a wheel blast and an air powdered system are utilized to accelerate steel shots on the surface. Steel shots produce the least dust due to their non-abrasive manufacturing technique. To overcome condensate strength when torquing or loading metal parts such as engine turbine blades, crankshafts, and heavy-duty springs, steel bullets are utilized.
When compared to other materials like glass powder, iron abrasives, ceramic, boron carbide, silicon carbide, and so on, steel shots have high recyclability, which helps to reduce waste. Steel shots are divided into two types: high and low carbon steel shot abrasives. Although they have equivalent cleaning performance, their properties differ slightly. Low carbon steel shots supplier price provide higher stability than high carbon steel shots due to their inclination not to break and relative softness. Steel shots blast media, also known as abrasive steel grit, is typically available in a range of hardnesses between 40 and 65 on the Rockwell scale (400 to 850 on the Vickers hardness scale).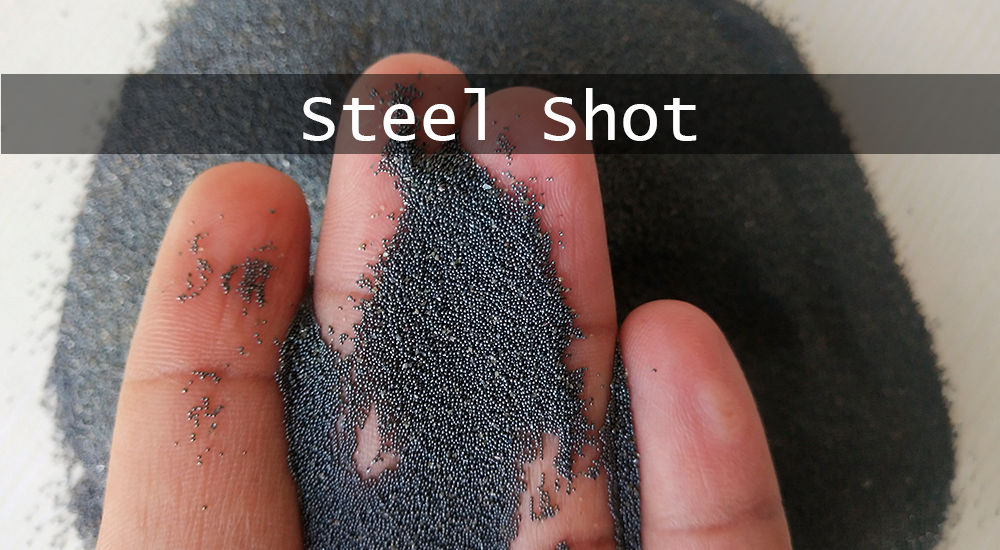 Features of Steel Shots
Long Durability
Multipurpose
High abrasion resistance
Clean quicker and consume slower
Identical solidity
Identical rigidity
Dimension precise
Supply with the prevailing international quality standards
The innovative technology we use during the manufacturing process is a direct outcome of the exceptional qualities of the steel abrasives we manufacture, which make them incredibly resistant and strong.
Application Devices
Steel Shots are mainly used with the devices mentioned below:
Shot Peening Equipment and Machines
Rotary Barrel Shot Blasting Machines
Trolley Type Shot Blasting Machines
Environmental Impact and Recyclability
Steel Shots are extremely recyclable, with recyclability of 2000 to 3000 cycles. As a result, they produce less waste than other expendable abrasives. Steel shots are three times harder and have a lower density than lead shots.
Steel Shots Manufacturer in India
Abrasives Shots is the leading steel shots manufacturer, & supplier of steel shots blast media at a low price in India. We also provide copper slag, steel grit, garnet sand, aluminum oxide, quartz shot, glass beads, etc. We offer a wide range of products that are tested for density, physical and chemical qualities, microstructure, hardness, and durability. We are focused on our grade products and client fulfillment. Steel shots price also depends on grade and steel shot sizes.
Through our superior products and services, we have helped countless maintenance managers save money and extend the life of expensive equipment. Our organization provides a comprehensive solution in the form of a complete product range backed by distribution and technical support.
To enable us to quote for your essential, kindly give us the subsequent info –
1. Particle size required (You may select from above or give your own range).
2. Packaging is required.
3. Quantity required in accordance with the delivery schedule.
4. The port of arrival.
5. Payment conditions.
6. If in break-bulk, the discharge rate at the destination.
7. Any other information that may have an impact on the quote.
We can also offer ungraded material for shipments in bulk in any quantities as desired by our buyers on FOB or CNF FO basis terms.
| | |
| --- | --- |
| Delivery Time | Generally Ready Stock or Within 1 to 2 weeks |
| Packaging Details | Standard Packing of 25 Kgs. |