Walnut shell blasting is used on submarines and aircraft carriers to remove the topcoat without destroying the pricey undercoats. Coatings were typically peeled down to bare metal before the introduction of walnut shell blasting, necessitating the replacement of the undercoat, vinyl coat, and topcoat. This coating removal blasting process also allows for selective coating removal, resulting in substantial time and cost savings.
Walnut shell blasting is being employed in a variety of industries and applications in a safe and effective manner. Perfect for use with aluminum oxide, brass, and sheet metal.
Specifications of Walnut Shell
| | |
| --- | --- |
| Shape | Angular |
| Hardness | 3.0 Mohs |
| Bulk Density | 40-45 lbs./cu.ft (pound/cubic foot) |
| Specific Gravity | 1.35 g/cc (gram/cubic centimetre) |
| Free Silica | No Free Silica |
| Type | Organic |
| Recyclability | Low |
| Surface Etching | Low |
Sizes Available
The grades sizes for the walnut shell are available in
G-6/10, G-8/12, G-12/20,G-20/30,G-18/40,30/60,G-30/100,G-40/100,G-60/200
The mm size of the walnut shell blasting media is
0.20mm-0.45mm, 0.45mm-1.00 mm, 0.80 mm-1.30 mm, 1.00 mm- 1.70 mm,1.30 mm-1.70 mm, 1.70mm-2.40 mm
It is 100 % natural, so it hasn't any chemical composition. Walnut shell blast media is very durable and angular in shape and multi-faced. The durability of the walnut shell is very long.
Walnut Shell Abrasive for Blasting
Harder, man-made materials such as steel shot or grit, silicon carbide, or aluminum oxide are commonly referred to as "abrasive media." Certain metal finishing applications, on the other hand, necessitate a softer, less abrasive substance that may achieve the necessary effect without damaging the substrate surface.
Crushed black walnut shells are a softer, gentler alternative to these harsher media blasting materials. Walnut shells are a lightweight, angular media designed specifically for use in dry air blasting applications. They effectively remove topcoats while leaving undercoating intact.
Blast operations are influenced by a number of factors, including safety, sand blasting nozzle distance, media particle size, and p.s.i. Because it does not cause silicosis, walnut shell blasting is a great alternative to sand blasting.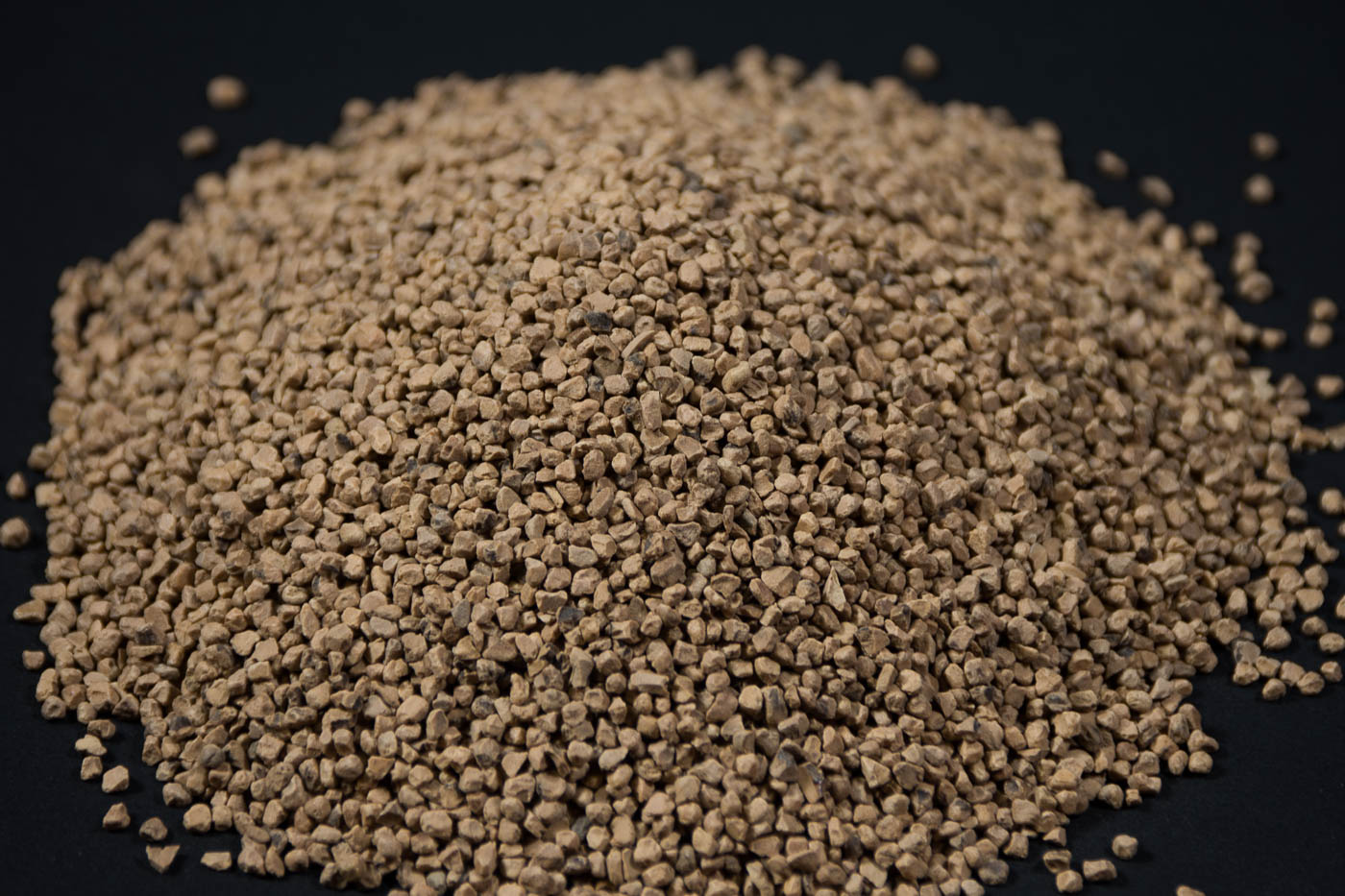 Advantages of Walnut Shell Blasting Media
There are several advantages to using walnut shell blasting media. It is non-toxic and environmentally friendly, for example, and hence poses no health or environmental risks. While removing the topcoats of paint, maintains the gel coatings, base, and primer.
The media is also long-lasting, reusable, and biodegradable, and it speeds up finishing operations by preserving microfinishes and replacing sand, which prevents silicosis. Walnut shell sand blasting can also be used to remove selective coatings.
Applications of Walnut Shell Blasting Media
Blast cleaning for steam turbines aircraft engines
Crushed walnut shell grit for deburring, deflashing, and finishing operations
Ground walnut shell blast media for paint stripping and coatings removal
Deburring in aluminum, plastics, and zinc die casting industries
Deflashing components in electronics industries
Excellent for air blasting, wheel blasting, and tumbling operations
Effective on cars, buildings, boats, bridges, outdoor statuaries, and graffiti removal
Porosity enhancer for grinding wheels and ceramics in burn-out applications
Benefits of Walnut Shell Blasting Media
Speed: Because walnut blasting is a dry process, no further time-consuming drying procedures are required. This will assist you in meeting tight manufacturing deadlines.
Flexibility: Walnut shells are compatible in nature, which may prevent the need to purchase multiple types of blasting media.
Cost-Effectiveness: Walnut shells are a reusable blasting media that will maximize the return on your investment.
Safety: Organic walnut shells do not produce harmful toxins and require no solvents or additives during the blasting process.
Environmentally Friendly: Walnut shells are biodegradable. You can dispose of them without concerns about harming the environment.
Walnut Shell Manufacturer in India
Abrasives Shots is the leading manufacturer of Steel Shot, SS Shot, Steel Grit, Garnet sand, Aluminum oxide, Quartz shot, glass beads blasting, etc, and a qualitative range of industrial steel abrasive products. These products are really popular for preparing steel and concrete for finishing. It is important that you prepare the surface for coatings to fight corrosion.
To enable us to quote for your requirement, kindly give us the following info –
1. Particle size required (You may choose from above or give your own range).
2. Packing required.
3. Quantity required with the delivery schedule.
4. Destination port.
5. Payment terms.
6. Discharge rate at the destination, if in break-bulk.
7. Any other point which may impact the quote.
We can also offer ungraded material for shipments in bulk in any quantities as desired by our buyers on FOB or CNF FO basis terms.
Shipping & Packaging Details
Shipping: Usually sold by the pallet or 2,000 lbs. (40, 50lb bags.) with multiple shipping points. You can, however, buy single (45 lb) bags of a very limited number of grit sizes, at the top of this page. Please email us for a custom freight quotation on orders over 250 lbs. We will need to know your ship-to address, and whether or not you have a loading dock on your end to receive the media.
Packaging:
50lb bags, 40 bags per pallet. 2,000 lbs per pallet.
Minimum Order: One full pallet. You can, however, buy single bags of 45 lbs, of a very limited number of grit sizes, at the top of this page.
2,000 lbs super sacks, one sack per pallet.
You can reach out to us by dialing +91-9119207701 or by sending us an email at abrasivesshots@gmail.com. Contact us today!